CHAPTER 2 - Montolieu Town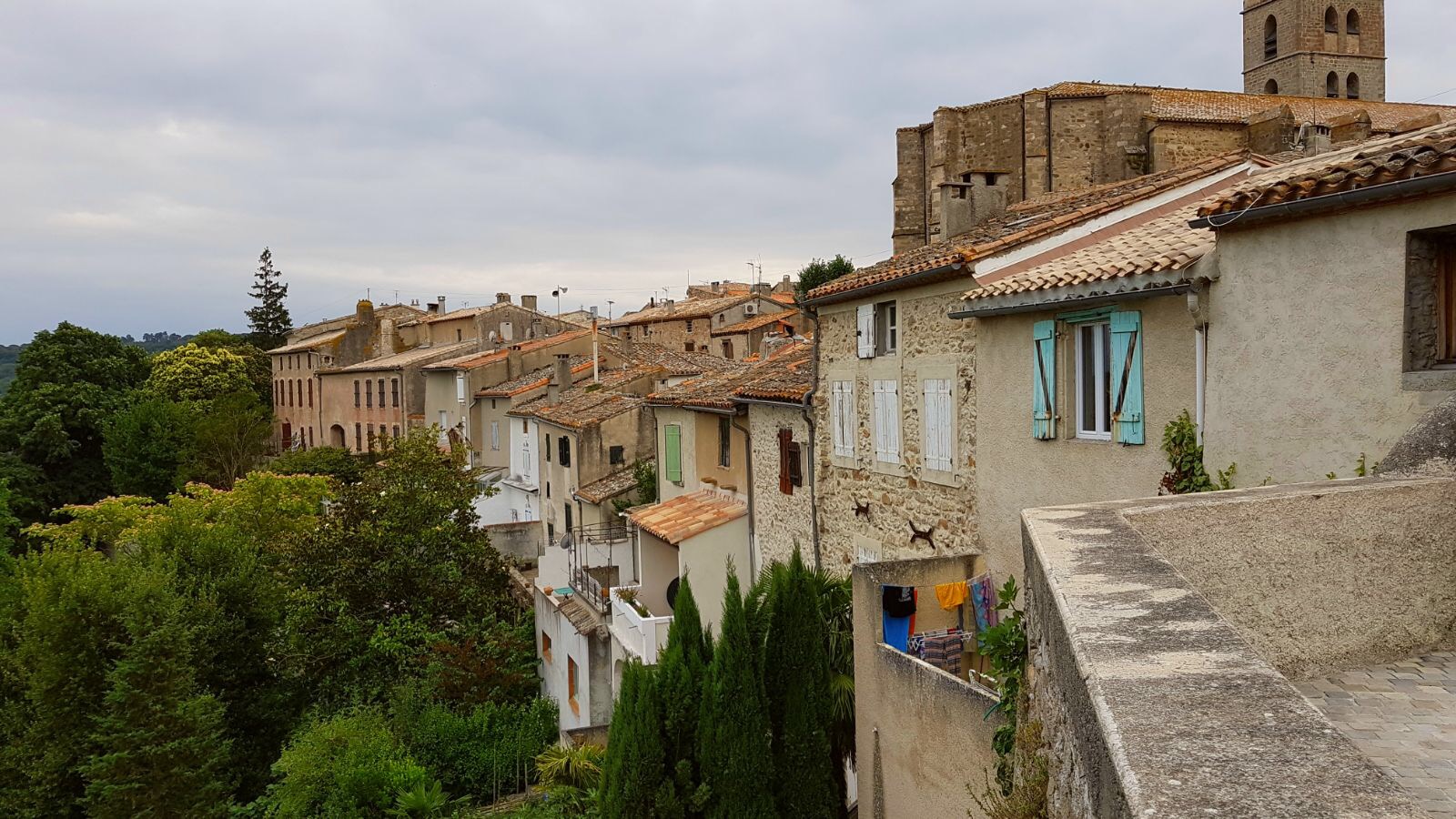 Montolieu is approximately 10 miles from Carcassonne, and is built upon a huge rock situated between two rivers - the Alzeau and the Dure. 
It is a small town of around 800 inhabitants, with a real spirit of creativity. It is known as the Village Of Books, thanks to its 15 bookshops, some of which also sell records. Book lovers come from all over France to visit. But as well as being part of the literary world, there are also art shops and galleries, a fascinating museum of printing presses through the ages (with an art gallery upstairs), sculptures, and often live music. 
There is a well-stocked local small supermarket, run by Nellie for the past 25 years - with everything you could need without having to go further afield, including a deli counter, fresh vegetables, cheeses, frozen food and a chiller cabinet. 
Across the road is a wonderful wine shop, where you are welcomed to try proprietor Adrian's superb selection, and allow him to pass on some of his vast knowledge about his chosen subject. What he doesn't know about the regional wine isn't worth knowing.
And on the subject of food, you're sure to marvel at the unique vegetable vending machine in the street near the school.
It's stocked daily with locally grown organic produce. Need a tomato, or potato, or some radishes? Just put some coins in the slot, select your choice and open the door to one of the refrigerated cubes.
It's amazing!
There is also a tabac newsagent in the town, as well as an extremely good pharmacy, a hairdresser, the Post Office, and a Tourist Information Bureau.
If
you like art, don't miss Willy Ba's incredible studio of his original work, as well as the world-class gallery La Cooperative at the lower end of the town. Art and sculpture is in abundance over two floors and the place is definitely well worth a visit. It's hard to imagine that a gallery of such high quality is found in such a small town.
You will soon discover that everything is within a short walk from the apartment. The atmosphere everywhere is relaxed, and there is little traffic. In fact none in 'our' street, as it allows vehicles for access and loading only.
Go out for a stroll and pop round the corner to the magnificent 12th century church of Saint André, and then maybe relax outside the bar by the fountain. Hear the church bells chime as you watch a boules match being played. You'll find a set in the apartment, so why not take on the French at their own game? 
Of course there are a number of restaurants and bars in Montolieu - more about them in CHAPTER 5.