CHAPTER 5 - Food and Drink
You'll find all the accoutrements in The Writer's Retreat's well-equipped kitchen to make yourselves a gourmet dish. There are pots and pans galore, and there's always something in the pantry to rustle up a quick meal. And you won't need to worry about basics like salt, pepper, spices, pasta, sugar, olive oil, and all of that - it's all there for you to help yourself. But if you do realise you've forgotten something, it's only 30 seconds round to Nellie's fabulous supermarket that's open until 7.30pm. Except on Sundays and Mondays, unless it's July or August! Ah, the French way - c'est la vie! And remember there's always the vegetable vending machine at the end of the street - open 24/7.
But when you're on holiday, you probably won't want to do much cooking - so you may like to try out the local eateries in the town. You won't be spoilt for choice. Apart from the recently opened Thé-Salon that offers a dish of the day, only three doors up from The Writer's Retreat, there are four other bar-restaurants to choose from - the furthest one being only five minutes' walk away.
Let's go on a journey around the village, taking a look at each establishment. Go out the front door and walk across to the Casquette Et Chapeau (Cap and Hat) where Tristan and his team will serve you royally. Sit outside or indoors for just a drink - or a three-course meal, prepared in front of your eyes. Don't forget to write some graffiti in the loo - it's encouraged! 
Moving on down the central street, you'll come by Les Anges Au Plafond (Angels of the Ceiling) where the Michelin-starred chef (we've been told) will conjur up some magic. Sometimes they have live music, or you may be lucky to find some musicians playing outside.
Just past the Anges is Maison de Mallast, with it's beautiful garden restaurant. If you're missing having fish & chips, look no further.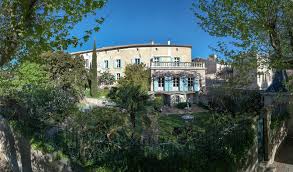 Of course you're thirsty - so you're probably trying out a glass of Cabardes at each place. Stagger away from Les Anges, down to the Café Du Commerce. Sit outside in the warm weather. Take in the live music every Thursday in July and August. Try their fantastic pizzas - goat's cheese and honey is the best - available on Fridays, Saturdays and Sundays. Go in a day before and ask Cecelia to reserve a table for you by the window - the view's magnificent. Say hello to the dog Jacko from us. Try their steak, cooked on their indoor barbecue - we defy you to eat a whole one. And their salads are pretty good too - great value if you don't care to splash out.
And if you insist on going for the whole tour - continue walking down until you reach L'Apostrophe. It's perhaps the most photogenic and atmospheric places we know of. In summer they sometimes put on live music concerts outside, and their fare is usually tapas style. They also occasionally put on live music and dancing events - look out for local posters for up-to-date information.
Well, thanks for joining us on our little tour. We hope you've enjoyed it. Now, if you can just manage to stagger back up the hill to the apartment, we wish you a very good night, and we look forward to telling you about swimming and sun-bathing in the morning. See us at CHAPTER 6.